Complete Fleet Management Checklist
Download the checklist now
Are you confident in your fleet management?
Achieving supply chain and logistics success by managing your fleet is a journey. From truck maintenance to fleet communications, make sure that you have the resources to do it all.
In this checklist, discover the key fleet management components for your fleet to gain:
Greater visibility
Better efficiency
Improved productivity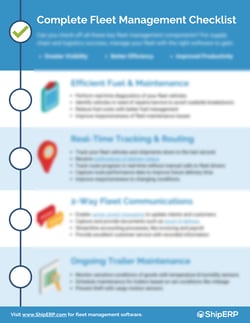 ShipERP is a leading multi-carrier shipping software. With a 500+ business rule engine and 250+ integrated carriers, ShipERP increases supply chain efficiencies while reducing freight costs. Achieve optimized parcel shipping with ShipERP's carrier rate quoting, transportation planning, supply chain compliance, and many other functionalities. ShipERP's enterprise solution is dedicated to fulfilling your business shipping requirements and transforming your supply chain for the better.